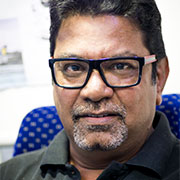 Subhendu Sen is a leading Wedding Photographer and travels anywhere in India, like, Kolkata, to capture Bengali weddings and other events. The photojournalistic quality of his wedding photographs, makes each photograph precious and memorable for years to come. Be it wedding photography, portraits, stage shows or entertainment-based events, his candid photography, specially for wedding in Kolkata, always gets you an insight from an inner circle. His every photograph has a story to tell.
He believes that capturing right emotions from unusual angles using lights creatively are the three basic aspects that turn ordinary wedding photographs into extraordinary ones. What makes him different from the other Mumbai wedding photographers, is that he doesn't just take photographs, he creates them. He helps to create the moments - the moods and the real emotions, and the actions just follow. Thus, being photographed by Subhendu on your wedding is fun and a memorable experience by itself.
His photography services are reasonably priced. As a Kolkata wedding photographer, he believes in giving back more the value of the price he takes. Please have a look at his portfolios (see menus left), the testimonials, read the faqs and feel free to request a quote.
Hope you enjoy the photographs!